What is code issue?
When a system is expected to behave in a certain way and it fails to meet the result, the issue occurs. Similarly, any defect or bug found in the code leads to code issues. Embold helps to identify the code issues in your software and provide the solutions for the same. 
Issue Suppression
Code issues are one of the important assets of Embold analysis. Issue suppression is a feature that lists the suppressed code issues within a file/project. Suppression means basically ignoring some parts or a whole parts of the code.
In a few cases, code analysis gives false-positive. Issue suppression is a feature that allows users to suppress these false-positive issue occurrences. This is important because disabling the issue type entirely will not be correct in many cases. If one issue is suppressed, it will be taken off from the code issues panel and will be moved to separate suppressed issues panel.
Steps for suppressing an issue:
1. Go to the Component Explorer present at the top navigation bar next to the duplication tab.
2. Click on the icon on the left side for the issue to be suppressed.
3. Click on "Suppress this occurrence" icon.
4. Add comment i.e. the reason for suppression.
5. Click on the Submit button.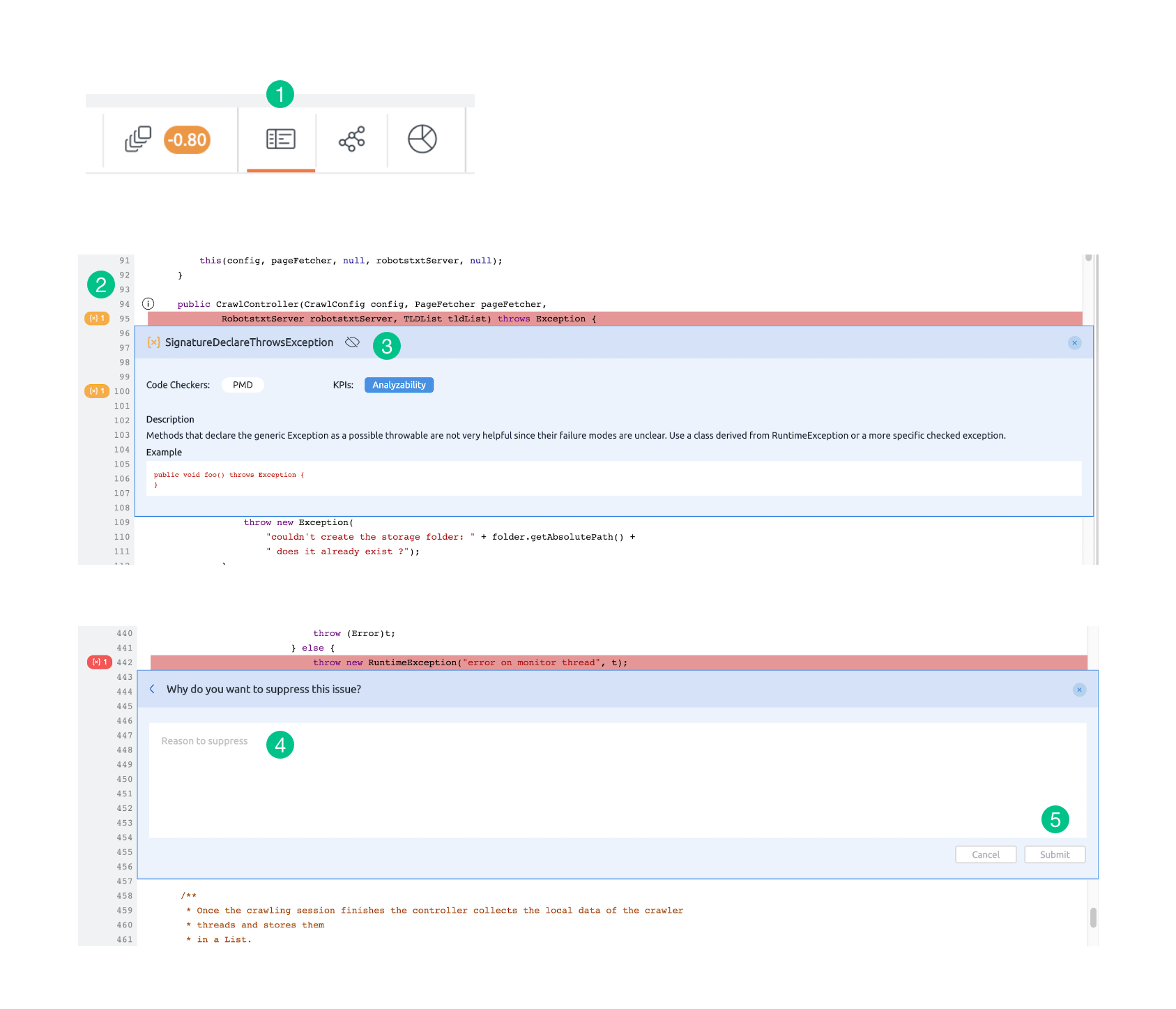 Steps for unsuppressing an issue :
Go to the Component Explorer present at the top navigation bar next to the duplication tab.
From the Suppressed Issues tab, click on the unsuppress icon.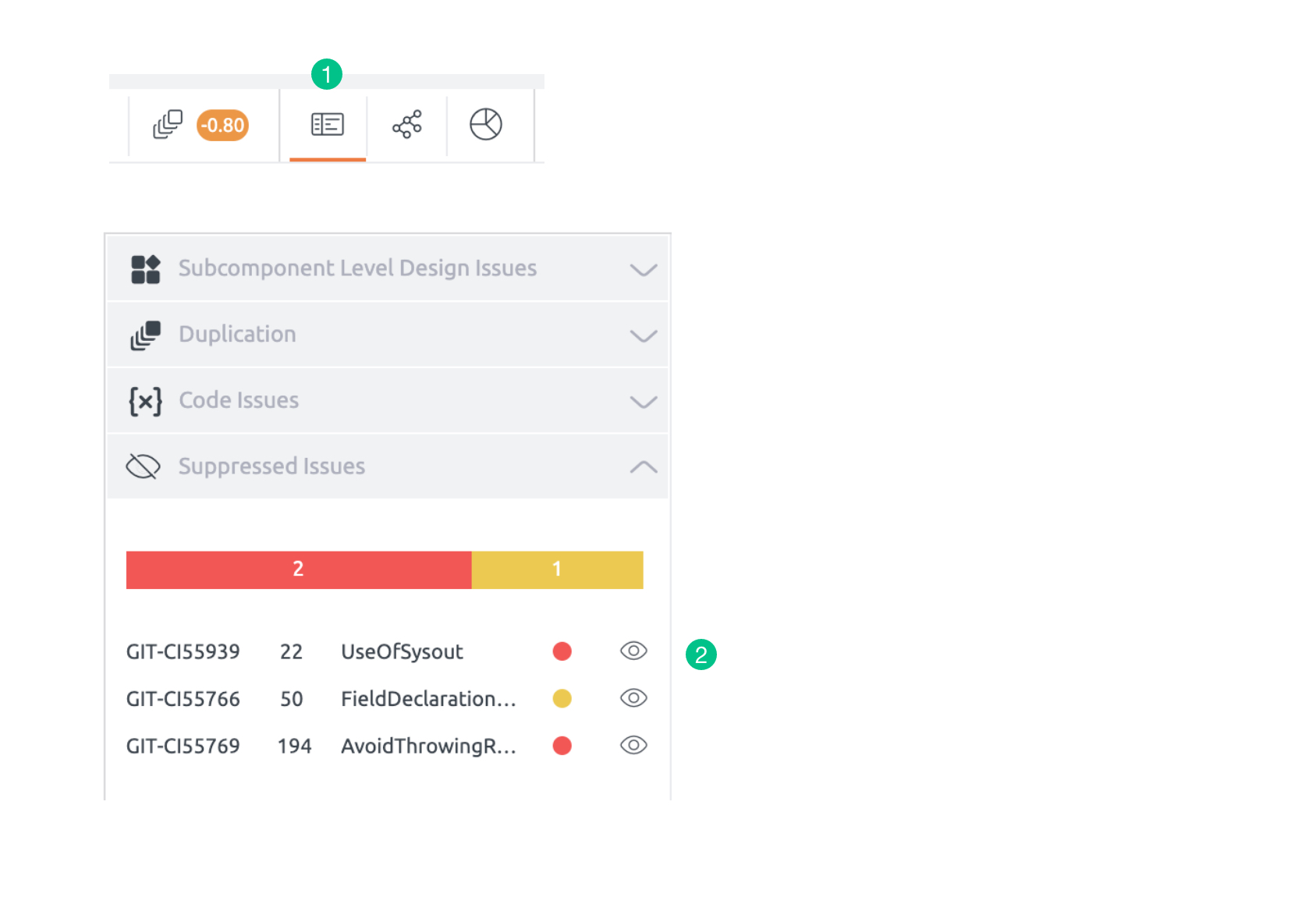 Note:
Suppression details can be seen on click of suppressed issue .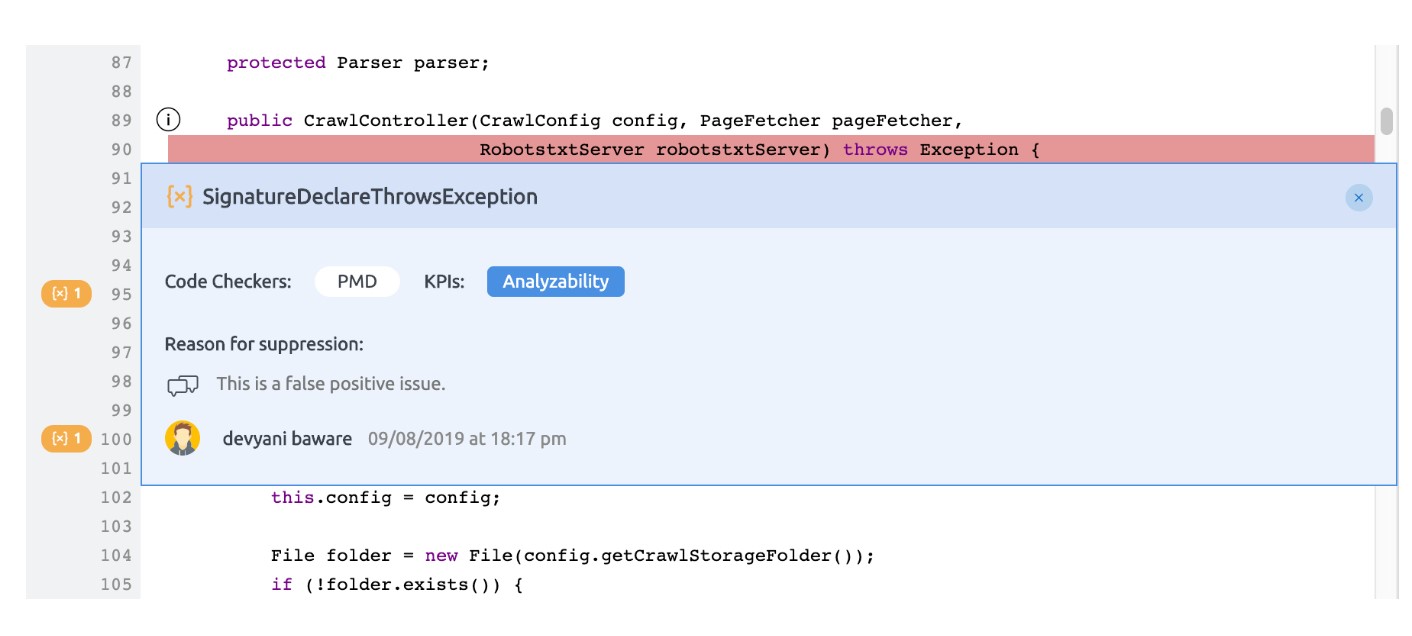 Code checker configuration
Code checker configuration helps you to enable or disable code checkers and their corresponding rules for any repository.
Steps to navigate to code checker configuration
Select the Code checkers configuration option from the repository context menu of the desired repository.
On the Code checkers configuration page, on the left side navigation pane, by default, code issues are enabled except few.
Check or uncheck the radio button to enable or disable a specific rule. If you want the checkers to be disabled, you can disable the code checkers (for example GammaCXX or cppcheck).
For a specific selected checker, rules will be displayed.
Move the cursor on the desired rule to view the More info button. More info will display a detailed description and examples.
Users can search rules manually by typing in the search text box.
On the right side navigation pane, the Filter Rules section can be used to filter the displayed rules based on Criticality or by associated KPI.
To download the file, click Download JSON at the bottom right corner of the code configuration page. This file provides a customized configuration in JSON format and you can change it manually.
To upload the changed file, click Upload JSON Configuration at the top of the code configuration page.