User roles
Users on BrowserStack Code Quality can have two types of roles. Administrative roles and Project level roles.
Administrative Roles
Administrative roles have a system wide scope. It is not necessary for a user to have an administrative role. There will be no administrative role assigned by default. Below table lists three available administrative roles you can assign to a user.

| Roles | Account Admin | User Admin | Project Admin |
| --- | --- | --- | --- |
| Manage admin roles of other users | ✔︎ | | |
| Manage users (add, suspend, delete) | ✔︎ | ✔︎ | |
| Manage projects and repositories | ✔︎ | | ✔︎ |
Note: The above roles mentioned do not have permission to edit, modify or delete any user or user role of a similar level or higher than that.
To change administrative roles of a user:
1. From users tab under administration, choose desired user.
2. Check desired administrative role under 'Administrative Roles'.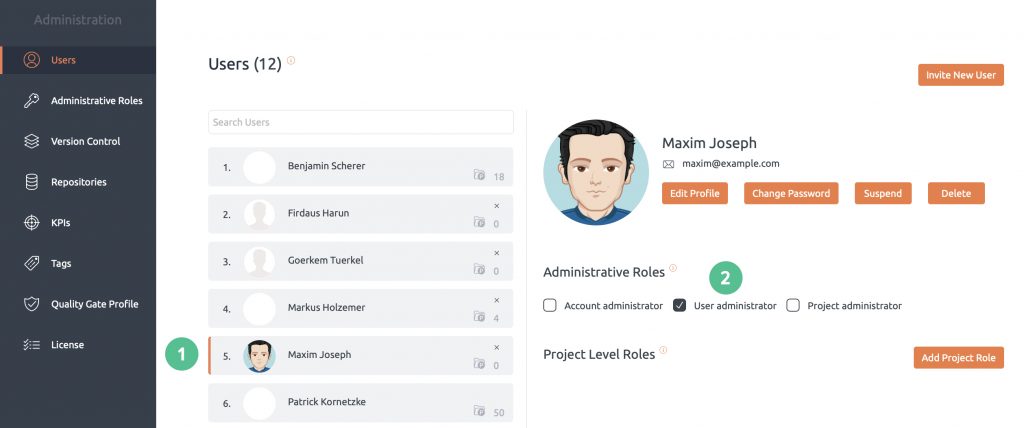 Project Level Roles
Unless a project level role is assigned to a user for a given project, he/she will not be able to access that project and repositories inside it. Three project level roles available are listed in below table.
| | | | |
| --- | --- | --- | --- |
| Roles | Explorer | Analyser | Manager |
| View projects | ✔︎ | ✔︎ | ✔︎ |
| Scan repositories |   | ✔︎ | ✔︎ |
| Manage snapshots |   | ✔︎ | ✔︎ |
| Manage repository settings |   |   | ✔︎ |
To change project level roles of a user :
From users tab under administration, choose desired user.
Click Add Project Role button under Project Level Roles.
Choose desired project to grant access to. You may search for a project as well. Click Add button
Modified project level role from the listing under Project Level Roles if necessary. Default role assigned will be 'Explorer'.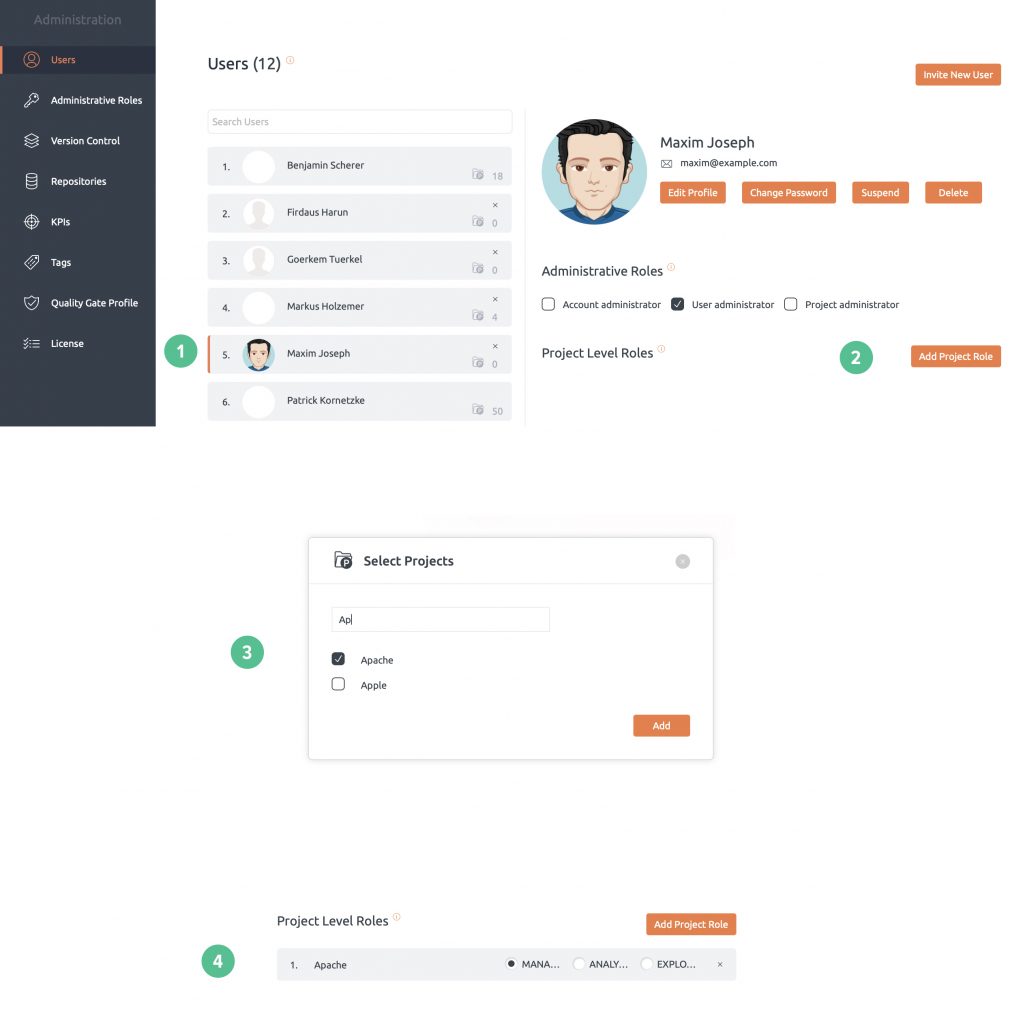 ---
Manage user roles
If you want to change administrative roles of multiple users together, it can be done from Administrative Roles tab under administration.
Steps :
1. Go to Admin>Administrative Roles.
2. Click +Users button on the desired section to select the users.
3. In the select users pop up, select desired user and click Add button. You may search for users as well

4. Selected users will get added to desired administrative role. Hovering on a user will reveal X button to remove a user from an administrative role.
---
Types of Administrative Roles
Following are the three types of administrative roles available:
1. Account administrator
The account administrator has full authorization to projects, repositories, quality profiles, license, etc. in BrowserStack Code Quality.
2. User administrator
The user administrator is authorized to add, delete or suspend a user from BrowserStack Code Quality. The user administrator can also view the other users in BrowserStack Code Quality.
3. Project administrator
The project administrator can add/edit/view/delete projects or repositories on BrowserStack Code Quality. The project administrator is also authorized to view project-level roles and assign the project to users.